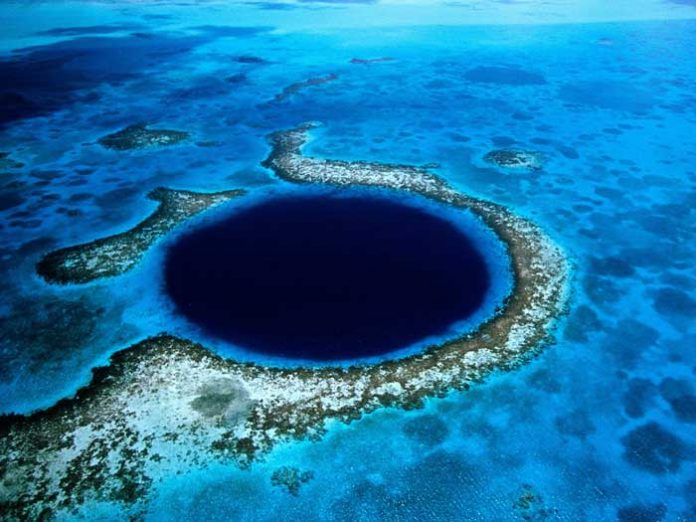 Great Blue Hole, Belize
Located just off the coast of Belize, the Great Blue Hole is named after the large, circular hole at the centre of the Lighthouse Reef. This dark blue hole measuring 1000 feet across and 400 feet deep lies easily visible in the middle of the turquoise waters of the Caribbean Sea. Listed as one of the top 10 diving sites of the world, the Great Blue Hole is a spectacular site with mesmerising underwater sights and amazing displays of marine life. Caribbean Reef Sharks are a common sight as you keep descending deeper into the watery void. This is one of the more challenging dive sites and is more suited to experienced divers.

Nearest International Airport: Philip Goldson International Airport, Belize.

The Great Blue Hole, Belize | photo credit
Isla del Coco, Costa Rica
Located about 500 km off the Costa Rican coast, the Isla del Coco is a fascinating island surrounded by azure waters teeming with marine life. The waters are home to Hammerhead sharks so if you are a shark lover, this is definitely a site to head to. Although the year round warm tropical climate makes it possible to dive in these waters any time of the year, during the rainy season between June and December you could actually find yourself face to face with these majestic creatures.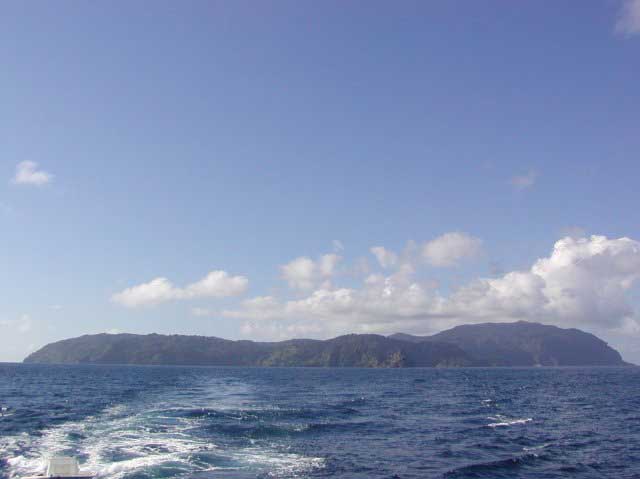 Peninsula Valdes, Patagonia
If swimming alongside some of the most magnificent of marine species in their native environment is what you dream about, diving in the Peninsula Valdes will make your dreams come true. The best time for diving these waters is between November and March. The water temperatures dip acutely at this time of the year but the magical experience of 'mingling' with elephant seals, whales and sea lions makes it worth braving the cold waters.
Nearest International Airport: Buenos Aires Ezeiza International Airport, Argentina (EZE).
Galapagos Islands, Ecuador
Comprising of a group of 13 major islands the Galapagos Islands boasts numerous exciting dive sites that promise a thrilling underwater adventure. The unique oceanic environment around these islands have created conditions that are optimal for a wide variety of marine life, from green sea turtles and seals to schools of rays, hammerhead sharks, coral and so much more. One of the most amazing sights at this site is the Roca Redonda volcano, an active volcano that rises from the sea floor through to the surface, creating an island that is continually bubbling under the surface. What can be more exciting than that! The water is pleasantly warm for diving throughout the year but the waters are clearest and offer unparalleled visibility during the months of April, May and November. A word of advice if you are heading out to the Galapagos Islands – the temperatures change quickly and dramatically in these waters and it is advisable to find out the water temperature from mainland dive companies before you head out. If you are only carrying your regular gear, you may need to pick up a thicker wetsuit to compensate for colder temperatures.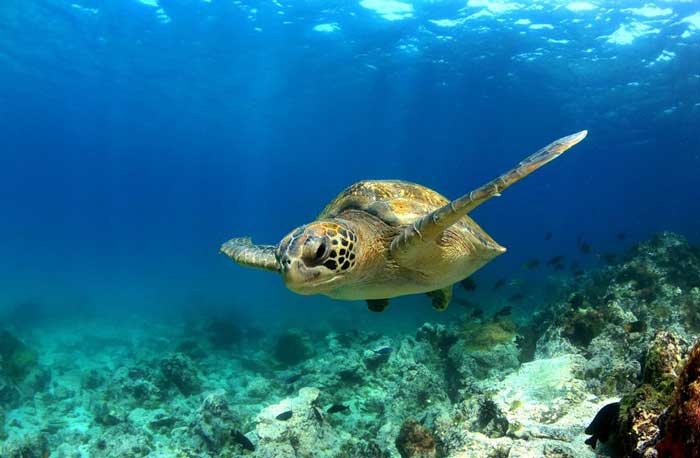 Fernando de Noronha, Brazil
Described by many experienced divers as Paradise on Earth, Fernando de Noronha is one of the most popular dive sites in Brazil with a visibility of up to 50 meters. The warm turquoise waters that surround this archipelago of islands create conditions that are ideal for a diverse array of marine species, from barracuda and sea turtles to snappers, albacore, manta ray and tuna. This dive site has been declared a UNESCO World Heritage Site. Visitor numbers are restricted in order to preserve its unique ecological habitat. Diving at Fernando de Noronha is a little more expensive than other South American sites because of the restricted access and ongoing preservation work.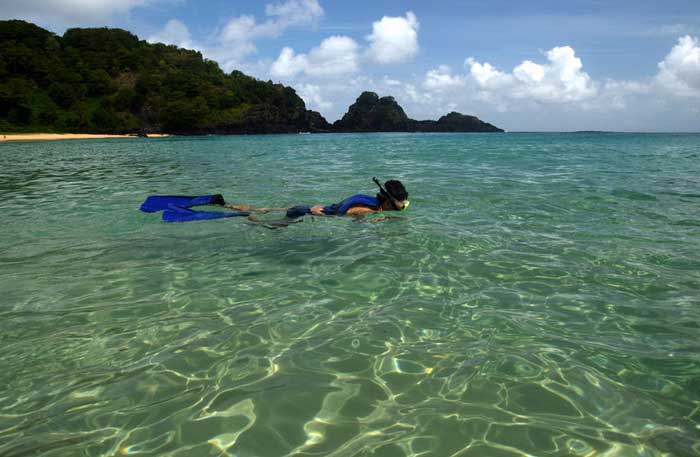 Sea of Cortez, Mexico
The Sea of Cortez is a 1,126 km stretch of water that lies between the Baja California peninsula and the mainland Mexican coast. The more than 850 species of Orcas, hammerheads, whale sharks, reef fish, sea lions and dolphin that inhabit this body of water will keep you enthralled as you spend time swimming around the underwater reefs and coral. Other species commonly spotted in these waters include vast pods of dolphins, killer and humpback whales, porpoises and even humpback whales, sperm whales and pilot whales.
Nearest International Airport: Mar de Cortés International Airport in La Jolla de Cortés, Mexico.
Mochima National Park, Venezuela
The wonderfully relaxed atmosphere and warm, crystal clear waters that are home to a rainbow of underwater marine life make the Mochima National Park a popular spot for divers of all experience levels, from seasoned professionals to first-timers. Different diver sites promise different delights, from soft and hard coral, spotted morays, trumpet fish, Christmas tree worms to large groupers, snappers and hermit crabs, angel fish and types of anemones than anywhere else in the world. This is a popular spot for divers looking to spend time leisurely exploring the diverse array of underwater species.
Ushuaia, Argentina
Ushuaia, Argentina offers a different type of excitement. This is a must-visit dive site for anyone who loves exploring sunken shipwrecks. The waters at this southern end of Argentina are home to the wreck of the Monte Cervantes, a large passenger ship that sank in 1930, and was left most untouched till 200, when it was rediscovered. The clear waters during the winter months offer splendid diving amongst king crabs, jellyfish and impressively large kelp plants. The temperatures of the water can plunge down drastically and a good, thick dry-suit can help you enjoy your underwater adventure longer.