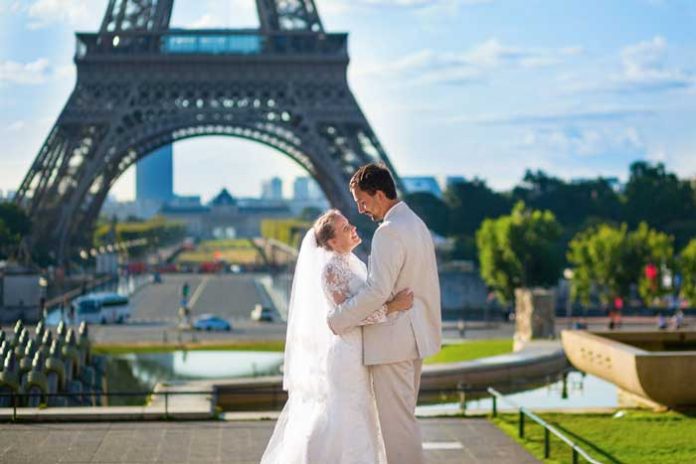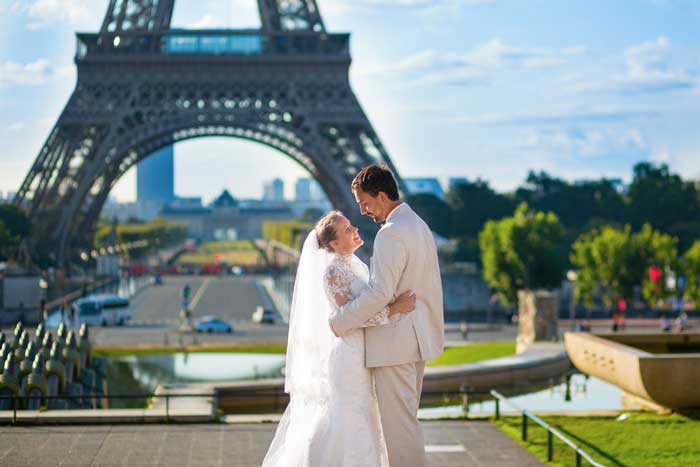 Among all the decisions that you have to make for your wedding, the location you choose is one of the most important. Before you start the adventure of a lifetime, why not make your wedding an adventure too with a destination wedding? Europe is a treasure trove of wedding destination possibilities. So if you are still looking for a location for your wedding, here are some reasons you may want to consider Europe.
Undoubtedly Europe offers many romantic possibilities, and you can choose from a wide variety of gorgeous wedding locations. Just imagine yourself taking your marriage vows while looking out at the Mediterranean Sea, or choosing a countryside wedding in Tuscany. Dream of indulging yourself in the beauty of any charming destination in Italy. Certain places in Portugal and Paris will have you feeling like royalty at your unforgettable wedding ceremony with family and friends. You can also opt for a breathtaking and glamorous terrace wedding in South France.
Another draw of getting married in Europe is the high standards of the European service industry. The quality of food and wine are exceptional, and the hospitality of European locations goes above and beyond. The value for your money is much more than you might expect. There are a wide variety of options in Europe that can accommodate any budget, from the small and charming to the lavish and extravagant.
Many locations in Europe offer wedding packages and wedding planners that can advise you on a fantastic array of different venues and settings for both your wedding ceremony and reception. Most wedding packages will include a list of traditional wedding services which can be tailored as per your requirements.
No matter where you choose in Europe, your wedding will be unique and memorable, and the icing on the cake is enjoying your honeymoon in Europe.
An Enviable Wedding in Ancient Athens
Greece is a great location with its many pretty islands and amazing views. Even though Greece may be having some trouble politically, it stills remains as a popular destination due to its extensive history, enviable climate and beautiful coastline. You can take your wedding vows in the beautiful and historic city of Athens. This ancient city will be a breathtaking backdrop for your ceremony. Athens is well connected by the Athens International Airport (ATH), which is the main international airport of Greece. So let the services in Greece create a unique wedding day that reflects your individual styles and personalities.
Wondrous Wedding in Croatia
If you are planning on getting married abroad, consider the stunning beauty of the country of Croatia. With enchanting views of the Adriatic Sea, you can have a magical wedding ceremony that neither you nor your guests will ever forget. Croatia is made up of over 1000 islands, so you are sure to find the perfect location and the best wedding venues for your needs. The rich gothic architecture and the spired cathedral in Zagreb inspire couples to get married here. The city is well served by the Zagreb International Airport.
Romantic Weddings in France
A wedding in France will guarantee stunning scenery, impeccable service, sophistication, style, fine wine and the wedding of your dreams. Paris is truly a wonderful destination with its captivating charm. It will leave you overwhelmed with its wide selection of beautiful locations and venues. You can always find an available flight to Paris from the hundreds of airlines providing their services to the Charles de Gaulle Airport in Paris, which is the largest airport of France.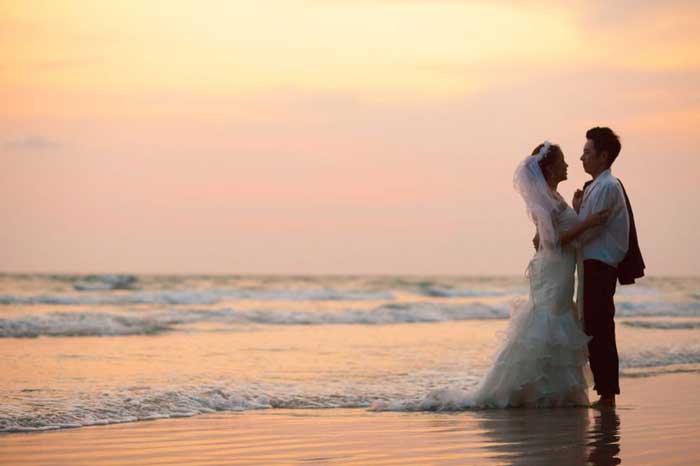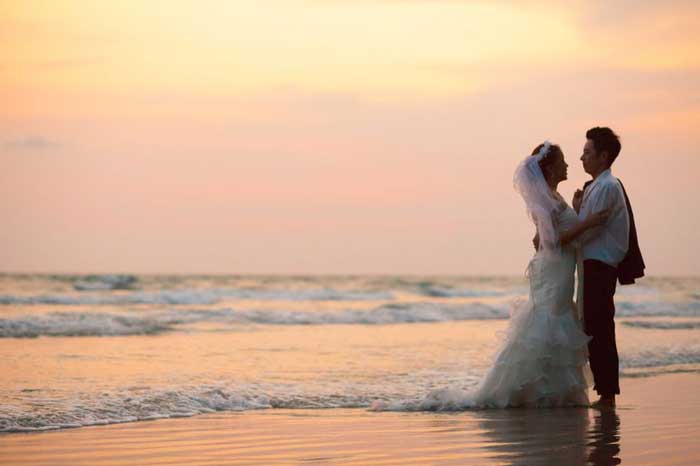 A Sun-Kissed Wedding in Cyprus
If you ever dreamt of perfect blue skies, a brilliant turquoise ocean, and a gentle sea breeze as the background of your wedding ceremony, then Cyprus is a perfect choice. Nicosia is the largest city on the island, and it receives 330 days of sunshine a year, so chances are you will have a perfect blue sky on your wedding day. Nicosia is easily accessible through the Nicosia International Airport. If you are travelling from the United Kingdom, Cyprus is only a four and a half hour flight from London. Nothing can be more romantic than exchanging vows on the island of love, the birthplace of Aphrodite (the goddess of love).
A Breathtaking Wedding in Italy
Some of the things you are bound to experience when having your wedding in Italy include the breathtaking scenery, romance, generosity and Italian warmth. A typical wedding in the sprawling city of Rome is like a beautiful portrait that you will carry in your memory for a lifetime. Rome stands as the epitome of architecture and culture. Flight services are available from the Leonardo da Vinci International Airport near Rome. Couples looking for a truly romantic beginning to their great love story should wed in Rome.
An Enchanting Wedding in Spain
A wedding in Spain promises to be romantic, colourful, energetic and enchanting. Your hunt for a remarkable wedding destination with rich heritage, delicious cuisines, and a favourable climate ends in Barcelona. Barcelona is defined by its medieval roots, distinctive culture and vibrant people. It is very convenient to fly into the Barcelona EI Prat Airport. The captivating city of Barcelona on the coast of the Balearic Sea will be the perfect destination for your fairy-tale wedding.
A Perfect Wedding Ceremony in Prague
Wedding planners in Prague specialise in arranging every detail for those wishing to plan a destination wedding in this charming and colourful city. Prague is a romantic city with Gothic architecture, the famous Charles Bridge and a range of historic buildings, including the unusual town hall with its distinctive clock. You and your guests will have the experience of a lifetime if you choose to have your wedding in this breathtaking city. Vaclav Havel Airport Prague extends domestic and international services and also has express buses to Prague station.
A Colourful Portugal Wedding
Portugal is known for its rich culture and beautiful architecture. Many couples choose to start their wedded life in Lagos among its stunning ancient architecture and endless stretches of sun-kissed beaches. There are a wide variety of options for wedding venues, so you are sure to find one that will take your breath away. Almost all Portuguese cities have an airport, so you can try dropping in the nearest Faro Airport (FAO) or it is just four hours from Lisbon.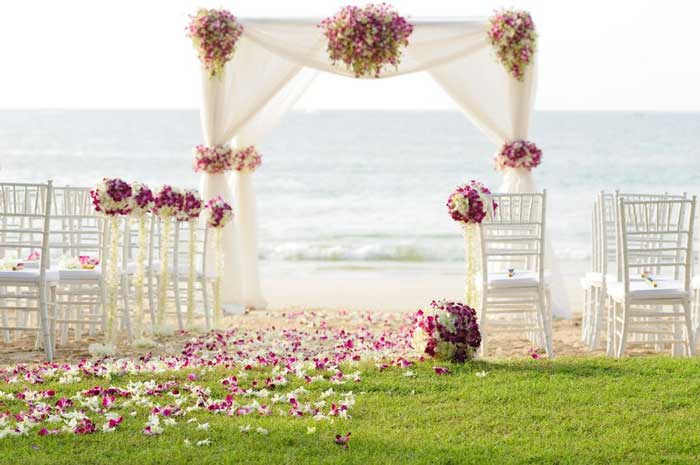 A Spectacular Wedding in Sweden
Known as the kingdom of Sweden, Sweden is a one of the Scandinavian regions in northern Europe. The remote northern Swedish town of Jukkasjärvi will add a distinctive touch to your wedding. Stockholm is an artistic and inspiring city with many locations that would provide the perfect venue for your memorable wedding. Its major airports are the Helsingborg and Arlanda Airport in Stockholm.
An Amazing Winter Wedding in Austria
Austria is a stunning location for a wedding abroad. The magical winter, the natural beauty, the stylish culture, and the most romantic cities make it a perfect wedding destination. A winter wedding with soft glowing candles, rich colours and snow-capped mountain peaks is an incredibly romantic option. Vienna is wonderful at Christmas, and the city is easily accessible through the Vienna Danubepier Airport.
When it comes to having the wedding of your dreams, there are many destinations in Europe that will provide you with breathtaking scenery, memorable locations, the highest quality services and all the romance you desire. Having a destination wedding at any of these beautiful places will ensure that you and your guests will have an incredible experience with memories that will last a lifetime.