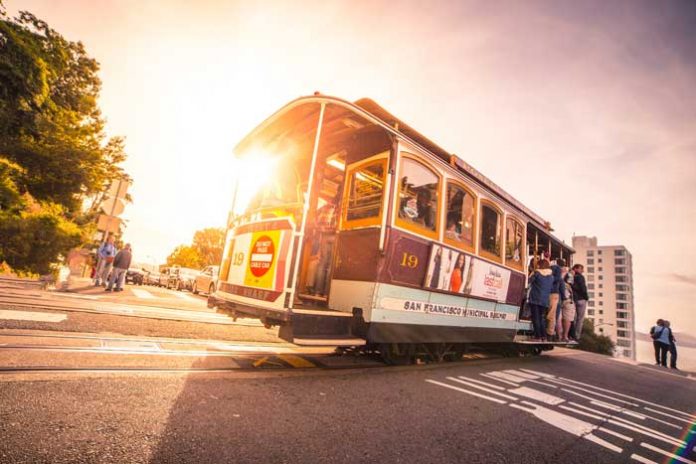 Is there a more Instagrammable US city than San Francisco?
Here are seven of the best spots for taking the perfect San Francisco selfie. You won't want to miss a single one so, before your trip, consider entering them into Google maps and plotting out the best way to see each.
The Golden Gate Bridge
It's not possible to take a bad shot of yourself on the Golden Gate Bridge. You'll even look great when the fog rolls in! Celebrating its 80th anniversary this May, San Francisco doesn't get much more iconic than this beloved landmark.
Union Square
Smile wide as you stand next to one of Union Square's famous heart sculptures or a passing cable car. When you're finished, you can photograph your shopping haul from the city's most famous shopping district.
Dolores Park
Everyone knows about Golden Gate Park but Dolores Park is where it's really happening. Before you head over for your photo shoot, grab a burrito from a nearby taqueria or an artisanal ice cream from neighbouring Bi-Rite Creamery. You'll fit right in with the picnicking hipsters who regularly gather here.
The de Young Museum
The de Young museum's security guards may call you out for shooting photos in a gallery where you shouldn't, so consider moving outside to the Barbro Osher Sculpture Garden where you can selfie away in peace.
Pier 39/Fisherman's Wharf
You'll have to jockey for space with the other tourists if you want to get a shot of yourself with the sea lions. Or you could just head over to historic Ghirardelli Square only minutes away and stand in front of the ice cream fountain at Ghirardelli Chocolate's Original Chocolate Manufactory.
Alcatraz Island
You'll learn on your tour of Alcatraz Island, a former penitentiary for the likes of Al Capone and "Machine Gun" Kelly, that the worst part of doing time here was the torture of having to stare daily at the vistas of the city and the bay. Freedom was so close and, yet, so far away. But don't worry. You'll be free to wander in and out jail cells and photograph yourself anywhere you like.
Twin Peaks
This is an obvious choice. San Francisco's highest point provides, hands down, the best panoramic view of the city. It's a hike to the top so be prepared to work for those photo likes!
There are, of course, many other great photo spots which didn't make our list: Lombard Street (the crookedest street in San Francisco) Alamo Square (where Full House's Tanner Family lived), and Haight Street (still a top destination for hippies and cool-kids). But no matter where you go in beautiful San Francisco, it's easy to strike a pose. So turn down the contrast, stop double filtering, and get out there and start shooting your fave #OOTD!